I get asked tons about what I recommend for this or that, and I do a lot of what I call, "Sidewalk Consults" where I simply recommend a supplement when we chat in person or online – a supplement that you would benefit from.
SUPPLEMENTS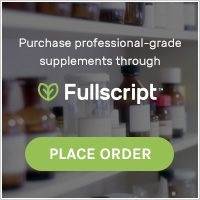 If you are currently a 1:1 or Group Program client, please let me know after you have set up your account but before you order – as my clients recieve my professional discount.
WHY FullScript
Supplements are a funny thing, they aren't well regulated on the manufacturing side and they aren't well regulated on the storage and selling side either. It's important that the money you spend be used for functional, quality brands with therapeutic level ingredients and  with safety in mind.
---
VIRUS KIT
With all of the talk of the Corona Virus, many of you are reaching out for help with what to have on hand. Now, Make sure you understand – in my opinion this is 98% fear mongering BUT a Virus Kit is something handy to have on hand for any virus issues that you maybe exposed to.
Part 1 to have on hand are these supplements, you will need 1 bottle of each for each person:
(note that link is on Fullscript and since they are Practitioner strength supplements you will have to enter your email address then choose VIRUS SUPPORT)
Part 2 to have on hand is Thieves Essential Oil, and Peppermint Essential Oil.
Luckily, both of these come in the Premium Starter Kit with a diffuser AND several other options for essential oils in your home. You can find the link here for all of the info.  
Sure, you could buy JUST Thieves and just peppermint, but the cost savings for the kit is the better option financially. If you would like only Thieves and Peppermint, then please reach out to acm@audreychristie.com.
---
OTHER MISC RECOMMENDATIONS 
Blogs
My fav financial guru: Mr. Money Mustache. He has mastered the art of frugality meets luxury and early retirement.
Earthing/Grounding Accessories
This little mat here is a great start to your earthing needs.  It can be used at night on top of your bed or taken anywhere else. It comes with the ground tester, which is an important accessory, especially when traveling. You can read about the importance of grounding on the blog. Grab your earthing mat here: http://amzn.to/2si48yw
Additional earthing accessories: http://amzn.to/2tihxI8
Eyewear
Eyebuy Direct, We buy all of our sunnies and prescription eyewear from Eyebuy Direct and highly recommend it both in fashion and frugalness! Use my referral code and get $10 off your order! https://www.eyebuydirect.com/553280
Essential Oils
Young Living Essential Oils (take a quick Essential Oils 101 Class here)
Grocery Shopping
Not much for online grocery shopping, but I do love shopping on Amazon when it saves me a trip.
Hair Color
Yes, I wish I could say I didn't ever color my hair, but a couple of times a year I use a super non-toxic hair dye from Madison Reed. Check it out here and get $15 off your order – making it around $5.
Juicing
I think juicing for specific purposes can be beneficial – here's the juicer I have owned for YEARS to juice my own fruits and veggies! Here is my juicer and the one I recommend:
Omega J8006 http://amzn.to/2n0ukf9
Potty Habits
Squatty Potty is awesome! It's great for kids and adults. It's a healthier way to eliminate, the way nature intended. Get yours here: https://amzn.to/2JmLZby